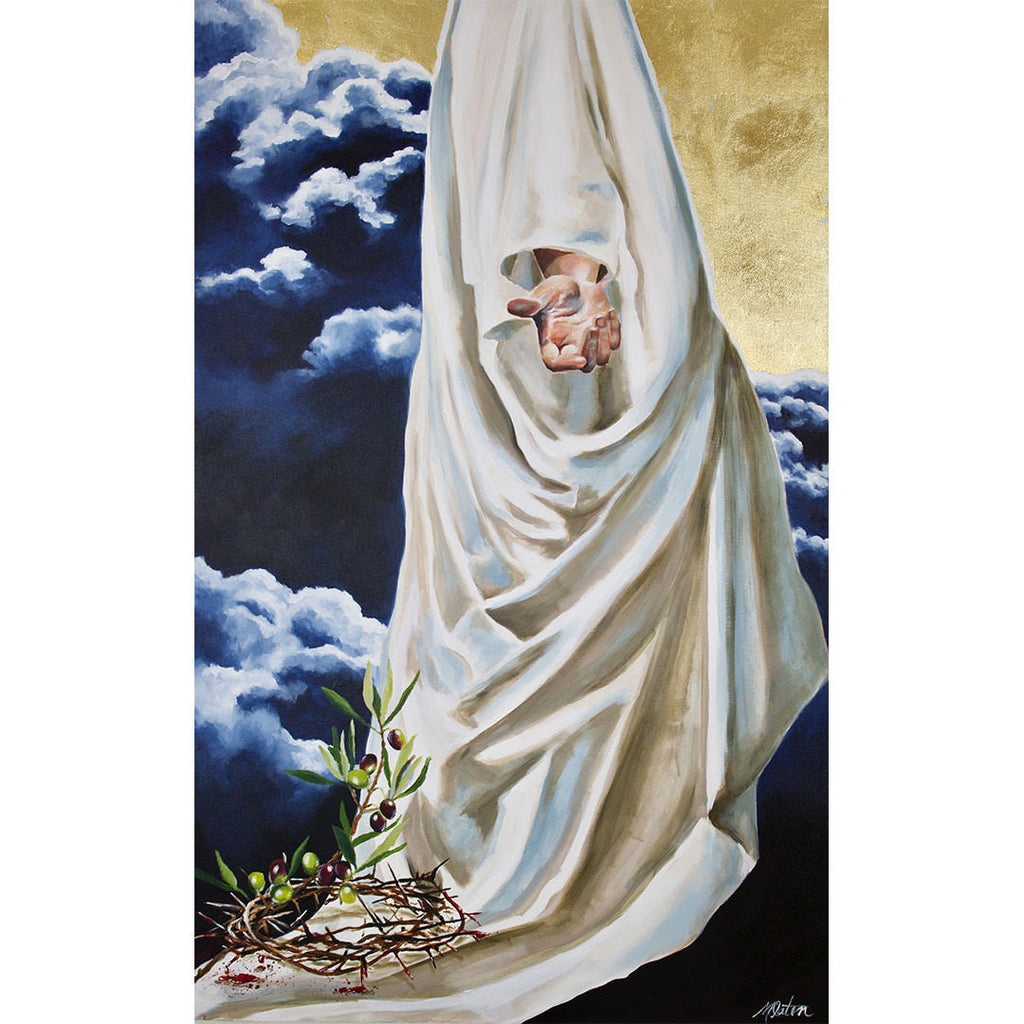 (from the "Garments of Praise: Mantled to Reign" collection)
Isaiah 61:1-3, NIV
 "The Spirit of the Sovereign Lord is on me, because the Lord has anointed me to proclaim good news to the poor. He has sent me to bind up the broken-hearted, to proclaim freedom for the captive and release from darkness for the prisoners, to proclaim the year of the Lord's favor and the day of vengeance of our God, to comfort all who mourn, and provide for those who grieve in Zion — to bestow on them a crown of beauty instead of ashes, the oil of joy instead of mourning, and a garment of praise instead of a spirit of despair. They will be called oaks of righteousness, a planting of the Lord for the display of his splendor."
Ephesians 2:4-7, ESV 
"But God, being rich in mercy, because of the great love with which he loved us, even when we were dead in our trespasses, made us alive together with Christ — by grace you have been saved — and raised us up with him and seated us with him in the heavenly places in Christ Jesus, so that in the coming ages he might show the immeasurable riches of his grace in kindness toward us in Christ Jesus."
~
This painting represents the fulfillment and great commissioning of Jesus.  The title "Come Up Higher," illustrates the completed work of "His Anointed." Isaiah 61 and Ephesians 2 were scriptures that the artist used to both frame the message of her work. Her desire was to capture the essence of our hope-filled invitation, to rule and reign with Christ.
The Hebrew translation of the word Messiah literally means, "anointed ones." In biblical times, people in positions of kingship and royalty were often given these elective titles. Now being grafted into the vine of Christ Himself, believers have this heavenly citizenship and are also called "the anointed ones." Thus, Believers radiate glimmers of His light (in various colours and shades), in order to displace darkness and thereby reign in truth, justice, and righteousness while on the earth. The anointed are to occupy and take up residence in different areas of influence while on the earth. However, this is to be forever distinguished from our true Messiah, that is "The Christ." Jesus, who mediates and responds as our chief cornerstone, and who gifts His beloved with mantles to reign by His blood. Our objective as His followers is to pursue the process of sanctification. That is for the renewal of the heart and mind to be transformed into His image (Rom. 12:2). A journey that Paul compared to being crushed, beaten, perplexed, afflicted, and bruised. This is often not a road that is characterized as lilies and sunshine, but rather is an uphill climb of wilderness seasons and sufferings. It is obvious that the Lord cares little about our comfort, and more about the condition of our hearts. His desire is that we would tried and proven worthy, presented without spot or blemish (The Olive & Us).  
 "(…) As His divine power has given to us all things that pertain to life and godliness, through the knowledge of Him who called us by glory and virtue"  (2 Peter 1:3, NKJV).
The Crown of Thorns:
Is symbolic to the suffering that Jesus bore.
It is a reminder of what He endured, so that as His disciples we can become co-laborers with Him. For this is our priestly assignment, to rule and to reign with His Spirit: "On earth as it is in heaven."
The Olive Branch:
Is a representation of the Lord's joy, sovereignty, peace, and delight over His people. Specifically, the oil that is pressed from an Olive tree must be beat and shaken to produce fine quality oil. The process requires chastisement for refinement. Similarly to those who are in the faith, one must surrender to His Lordship to behold the first fruits of His righteousness.
"The Hebrew word for "olive tree" is es shemen, which literally means 'tree of oil." It is from a primitive root meaning "to shine." It means "richness, anointing, fat, fruitful, oil, ointment, olive." It is related to the word shemesh, "to be brilliant," and which also is the Hebrew word for the "sun," that brightly shining orb in the sky" (Dankenbring, 2018).
The Color Gold & Storm Clouds:
The gold flecks in the painting are to display the stark difference between darkness and light.
The storm clouds mirror our present trials and hardships while on the earth. This contrast serves as a reminder that even amid sorrow, one can remain in the splendor and comfort of His Spirit, to come up higher and trust Him.
The gold in this picture asks the viewer to seek the imperishable things of His Kingdom, and to come away with Him. "Therefore I love thy commandments above gold; yea, above fine gold" (Psalm 119:127, KJV).
Robed in White:
Jesus our intercessor, His hand stretched out to offer companionship and deliverance from our foes. 
"Behold, the LORD'S hand is not shortened, that it cannot save;
neither his ear heavy, that it cannot hear (…)" (Isaiah 59:1, KJV).
We can be confident that He is already praying in the Spirit on our behalf.    As we weep, He weeps.
The Savior of the world bends down low to meet with us. One on one. He is personal and sincere. All dressed in white, his garment reflects a motive that is first pure and upright. The Lord desires to cover over us and illuminate our steps. His gentle embrace acts as a shield and strong tower; a safe place for remaining hidden.
Until Unity:
This painting of "The Christ" serves as the cornerstone to all the other paintings in this series. And although it can easily stand on its own, the beauty of His great commission was to include His creation to play a part in the story and carry forth His will. 
What an honour, that as believers we can be entrusted and serve alongside Him! However, in order to fulfill the Great Commission, we address every entanglement that seeks to divide, and run in such a manner that is worthy to represent His name and calling. We must walk in complete humility so that we can stand in perfect unity. Let us admonish one another, not allowing for compromise, but covering over each-others shortcomings in oneness and love.
"Behold, how good and how pleasant it is for brethren to dwell together in unity! It is like the precious ointment upon the head, that ran down upon the beard, even Aaron's beard: that went down to the skirts of his garments" (Psalm 133:1-2, KJV).
~
Tanya J. McCormack
Works Cited
     Dankenbring, William F. Biblical Mystery of the Olive Tree., 2018. olyvenbosh.co.za
     Dakenbring, W. The Olive in Us., 2018. olyvenbosh.co.za
Continue reading