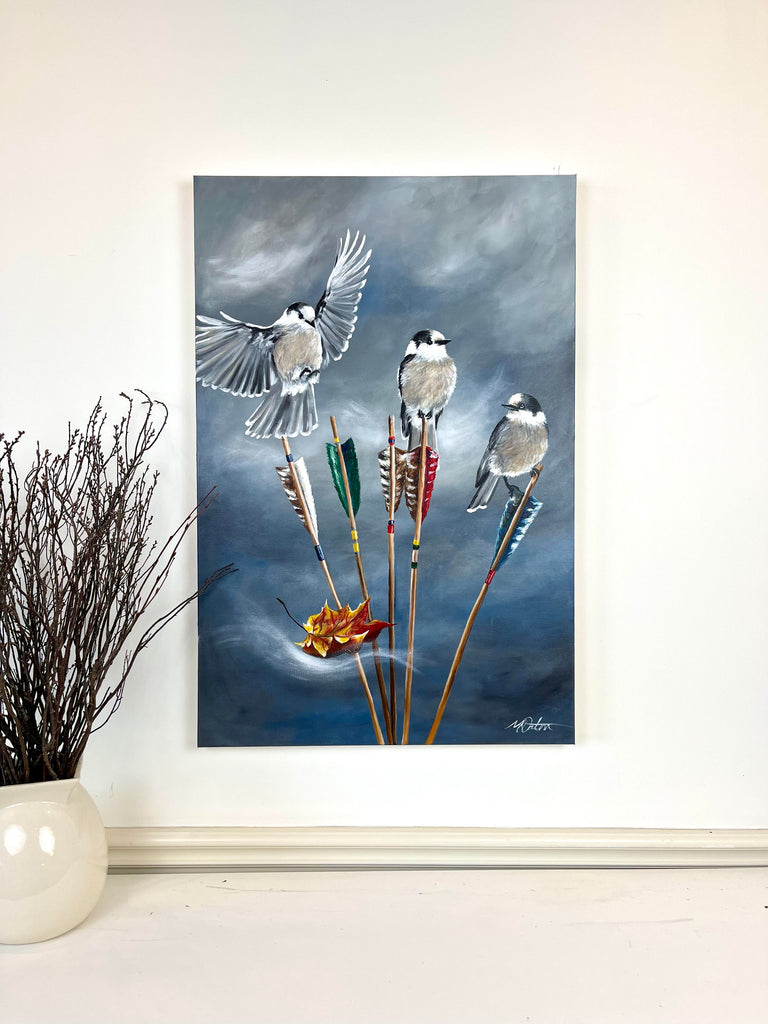 "ON GUARD"
DECEMBER 2021
C O L L E C T O R S
C L U B
~
"Be persistent and devoted to prayer, being alert and focused in your prayer life with an attitude of thanksgiving." Colossians 4:2, AMP.
Before painting for this month's Collectors Club, I spent some time in prayer.I felt the need to paint a "Grey Jay," specifically three birds that would represent our need to be reconciled under the Godhead of the trinity: Father, Son and Holy Spirit. Oftentimes denominations can place higher reverence to one above the other, failing to operate under the fullness of who He is. May we not found to hold this belief, only to hinder and ultimately grieve the spirit. For we are to be disciplined in developing a life of prayer, making time for Him. Choosing an attitude of gratitude and being sober minded and diligent in pursuing Him, until He faithfully returns for His bride.

Personally, this painting holds a specific meaning for me. Because I live in Canada, I felt the need to share a message of encouragement and speak a fresh breath of hope into our nation. Although this can be picked up and received globally, I believe Canada will be a forerunner in ushering in peace, unity, grace, and healing unto the nations. I believe God has called Canada to be a voice, take a position of authority and leadership. Canadians have an assignment and can no longer take the backseat in watching others lead. May we agree and pray together for believers to be a people of prayer, boldness, humility and courage.
The Grey Jay: Represents qualities of faithfulness, courage, and sovereign protection. These birds are known to guard over one's territory (birds that can be known as the watchmen), bringing about a word of warning.
Arrows: Often symbolize peace, however they are not simply characterized as being the "peacemakers."Arrows can be used as tactical weapon that offer protection, safety, strategy and of course accuracy. People who use arrows to hunt have developed the fruit of patience, to wait in hiding for the appropriate time to advance.
Maple Leaf: Is the National symbol of Canada. It represents unity, healing, and peace. The leaf also marks a seasonal change that is in tune with the Spirit, that will bring fresh color to change the surroundings of an atmosphere.
-Mindi Oaten Art