New Summer Art Series & Spring Sale | Now Available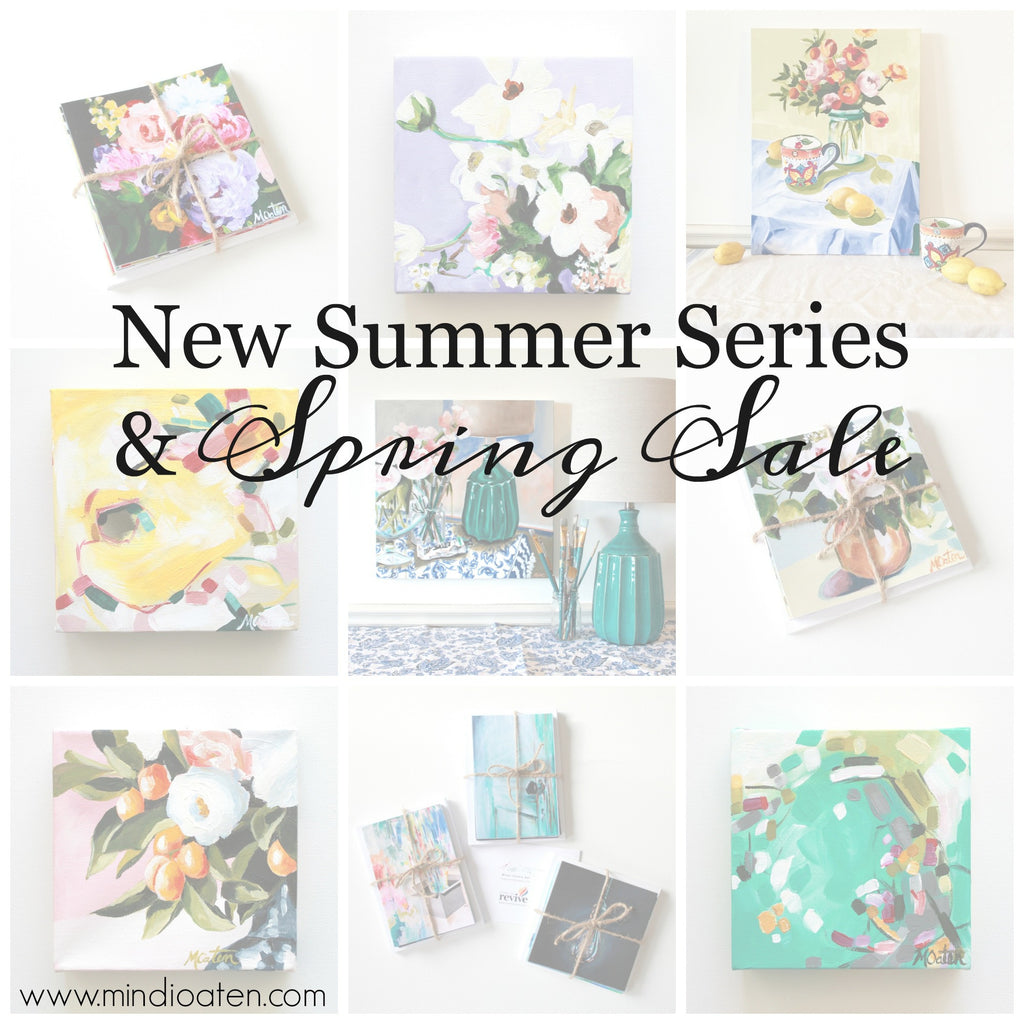 MINDI OATEN ART | Website Updates
It's been a while since I last wrote.  I have been extremely busy with life, painting, being a Mom, and balancing it all. I wanted to update you all on some NEW things in my art world!
NEW Original Art | Summer Series
I just added NEW ORIGINAL PAINTINGS that I have created over the last couple months. I've had fun working on different sizes, bright & cheery colours, and subject matter. Experimenting with still life, florals and abstracts have been my focus.  You can check out my new artwork by clicking here.
SALE | Original Art | Spring Collection
All Spring Original Art is now on sale! Prices are marked on my website. Incredible deals to add an original piece of art to your home. Be sure to take a look and pass on the news to friends & family. 
NEW PRODUCT | Blank Note Cards
I have also recently added a NEW PRODUCT - Blank Note Cards! I'm a big fan of pretty stationary, so I thought it would be a fun way to use my art in a way to give it to more people. My hope is to encourage handwritten notes, a modern hug to someone special. They are all blank inside, a perfect for any occasion.  Whether it be a thank you, an invitation, a get-well or a simple word of encouragement to someone, my prayer is they are used to touch someone's heart. Enjoy the art of writing and giving! 
Handwritten notes are no longer a thing of the past...
NEW PRICING & SIZES | Fine Art Prints
I also have NEW PRICING on my Fine Art Prints. I did a little adjusting with the sizes and pricing, so check that out. All fine art prints are printed on canvas, they look and feel like the real painting. I adjusted my sizing so they are easier for you to frame. You can custom frame, but now with some new sizes, you can easily find a ready-made store bought frame. (especially with my new square sizing...)
I think that's all for now!  Thank you for taking the time to read my website updates. A couple other updates coming soon...
Bless you all & have a wonderful rest of summer!
Mindi